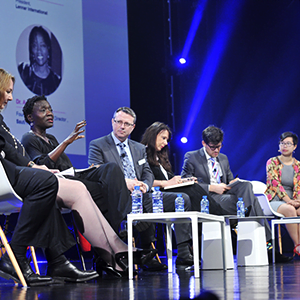 In real estate, it is important you are aware of the trends. The market is constantly changing, and to be relevant can be difficult when making the big bucks! Being a real estate professional means having great interpersonal and communication skills, as well as a solid network of other real estate professionals. Here are some recommended real estate conferences regularly. As 2018, check out our list of the top global real estate conferences of 2019.
"OVER 20 YEARS OF CONNECTIONS 
Inman Connect is a week-long event bringing together more than 4,000 top-producing agents and brokers, CEOs of leading real estate franchises, MLS and association leaders, tech entrepreneurs and marketing executives, to network, make deals and explore the newest technology. It's where the industry comes to learn about, embrace and leverage the change that surrounds real estate." (Source: https://www.inman.com/event/inman-connect-new-york-2019/ )
" Our theme for 2019: "Open Collaboration." Join us is London for "The World's Number One PropTech Event". This will be our 5th year anniversary and it will also be our most comprehensive event to date. We will bring together over 2,000 forward thinking real estate executives to discuss the future of the built environment." ( Source: https://futureproptech.co.uk/ )
"AREC 2019 will revolutionize the way you approach business, guided by a panel of unique thinkers who are driving the future of the industry. Gain invaluable insight into the innovative thinking, visionary ideas and personal triumphs of the world's foremost real estate identities.
It's an opportunity no motivated real estate professional should miss." (Source: https://www.arecconference.com/ )
"As MIPIM 2019 celebrates its 30th edition, the real estate conferences programme gives a unique opportunity to envision the next 30 years under the lens of 'durability': an enabler for economic growth, sustainable performance and community cohesion. The real estate industry has a whole new cycle to work with over the next 30 years, fostering a lasting, positive impact in each and every built environment."  (Source: https://www.mipim.com/conferences-events/ )
"With 45,058 participants and 2,095 exhibitors Europe's most important industry event has grown again. These record numbers reflect the strong development of the property industry."  (Source: https://www.exporeal.net/index.html )
"The conference provides the perfect forum for attendees to gain new insights into the latest real estate trends, as well as make new connections and strengthen existing relationships. This year's key topics include: Geopolitics, Macroeconomics and Investment Strategy; Changing Business Models and the Impact on Real Estate; Technology and Real Estate: how to deal with the known and the unknown; Social Changes: the Future of Wellness and Communities; and Trends in Capital Markets." (Source: https://europeconference.uli.org/ )
"2019 is the 10th anniversary of the founding of the Property Portal Watch Conferences. Over the last 10 years we have held 24 conferences around the world with over 4,000 attendees from 60 plus countries. The 25th Property Portal Watch Conference is being held in Bangkok from the 20th to 21st March. This conference will bring together over 200 C-Level leaders from the around the world to discuss the key issues facing the online real estate classifieds and marketplaces industry. The theme for the conference is "From Classifieds to Marketplaces – Capturing Value from the Transaction" During the 2 days there will 30 presentations from 35 different speakers covering 6 sessions related to the core conference theme:
"The Spanish capital hosts the 26th Property Portal Watch Conference, 12-15 November 2019. Simon Baker, our founder, former CEO of the REA Group, Chairman of the Mitula Group, Real Estate Investar, and serial digital investor, will chair the event, which consists of the main Conference and MasterClass. This distinguished event where CEOs, executives, and investors from the property portal realm convene, makes it possible for attendees to interact with industry leaders, forming valuable connections, gaining insights into the latest concepts and establishing new partnerships." (Source: https://www.onlinemarketplaces.com/events/9-madrid-2019 )
"MIPIM and MetaProp NYC have partnered to organize MIPIM PropTech, the premier Real Estate and Tech event. MIPIM PropTech unites key real estate decision makers from all sectors and technology companies to take their business to the next level and build the future of real estate. Join a unique opportunity to hear real estate industry leaders share their vision on the real estate market. Also, Promote your most impressive technologies and innovative solutions
that are shaking up the real estate industry." (Source: https://nyc.mipim-proptech.com/en.html )