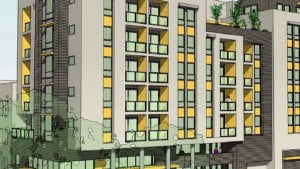 Seven-story development quietly starting construction in Hope Street.
by STEVEN SHARP on November 09, 2016, 1:31PM
Another multifamily residential complex is planned in the South Park neighborhood of Downtown Los Angeles.
According to broker Samir Rai of Keystone Realty, Los Angeles-based FMB Development recently closed on a property at 1317 S. Hope Street, and will soon begin construction for a seven-story building on the property. Permit filings from the Department of Building and Safety describe the project as featuring 38 residential units – including six units for very low income households – above ground-floor retail space and two levels of underground parking.
The proposed development, designed by DE Architects, would replace a small warehouse. However, an exact timeline for the project is unclear.
Rai also notes that a similar entitled property is currently on the market for $4.7 million a short distance south at 1333 S. Hope Street.
The project represents the continued southward expansion of Downtown's residential community, which has now established a foothold along Pico Boulevard.
FMB's project sits immediately south of a large parking lot which is slated for the second phase of Jade Enterprises' Onyx development.