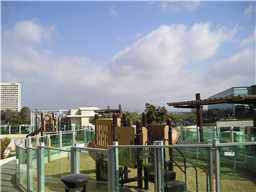 The ultimate in sophisticated urban living, the Marquee at Park Place offers 228 luxury condominium suites and 4 two-bedroom town homes in two 18-story towers. Floor plans ranging from 2 bedroom to 2 bedroom with den, approximately 1,275-2,062 sq. ft. The first of its kind in Irvine. The Marquee Park Place provides easy access to fabulous beaches, great golfing is just a swing away, extraordinary shopping, spectacular parks and nature trails abound with nearby Mason Regional Park receiving top marks for over 345 acres of park space and a 9-acre lake, educational adventure of all types await the University of California campus at Irvine, Faraway destinations are directly accessible via John Wayne Airport.
Located at the south-west corner of Jamboree Road and the I-405 San Diego Freeway, when completed, will contain over 4 million square feet of commercial/residential/entertainment development, marking another milestone in Irvine's transition from a suburb to a growing dynamic city.
Amenities
24-hour Concierge
Barbeque Area
Billiards Room
Meeting Room
24-Hour closed-circuit camera building surveillance
Gated Parking
Extensive landscaping and outdoor with seating
Resort-style auto plaza and lobby entrance
Pool, spa, fitness center, men's and women's change rooms
Each spacious, luxuriously-appointed residence at the Marquee includes high ceilings, full height windows framing expansive wall-to-wall views, cozy gas fireplaces and spacious entertainment-size balconies and decks. The finest materials and fixtures are featured including quality wood cabinetry of either cherry, walnut or zebrawood with granite countertops; professional quality stainless steel appliances; Kohler fixtures and faucets; rich flooring in hardwood, limestone, marble and berber loop carpet.
More about Marquee Park Place
Marquee Park Place Photos
Services
Marquee Park Place Resources
Santa Ana Unified Schools District
Monroe Elementary School: 417 East Central, Santa Ana CA 92707 (714) 431-3900
Mc Fadden Intermediate School: 2701 South Raitt, Santa Ana CA 92704 (714) 435-3700
Century High School: 1401 South Grand, Santa Ana CA 92705 (714) 568-7000
Property Management
Professional Community Management: 23726 Birtcher Drive Lake Forest CA 92630 (800) 369-7260
Marquee Park Place Management Fees: Master homeowners association dues are $1,150
Base tax rate: 1.07%.